THE REVERSO DISCOVERY WORKSHOP
DISCOVER THE INSIDE STORY OF A WATCHMAKING ICON
THE THEMATIC
A Legend born of a challenge
In 1931, Jaeger-LeCoultre launched a timepiece that was destined to become a classic of 20th-century design: the Reverso.
Created to withstand the rigours of polo matches, its sleek, Art Deco lines and unique reversible case make it one of the most immediately recognisable watches of all time.
Through nine decades the Reverso has continually reinvented itself without ever compromising its identity: it has housed more than 50 different calibres, while its blank metal flip side has become a canvas for creative expression. Today, 90 years after it was born, the Reverso continues to epitomise the spirit of modernity that inspired its creation.
The Reverso Discovery Workshop will explore the origins of the Reverso case – from its Art Deco lines to its ingenious swivelling mechanism – then will trace its evolution through the decades, as a canvas for artistic expression and a home to high-watchmaking complications.
Participants will dive deep into the Reverso archives and go hands-on with a variety of models. Finally, guided by an expert from the Manufacture, they will take on the unique challenge of assembling more than 50 components to create a Reverso case – a fascinating test of dexterity and patience!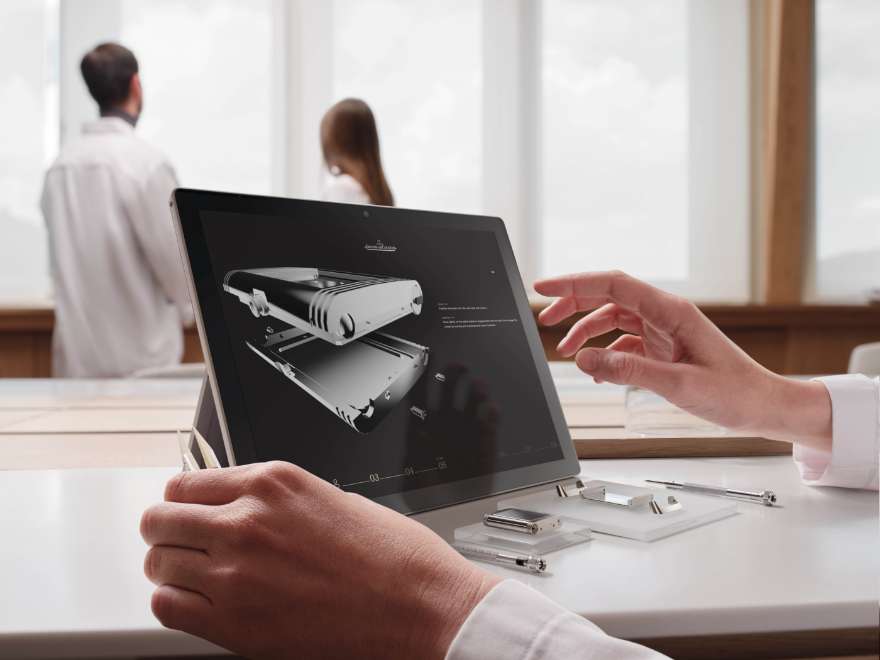 Booking
THE REVERSO DISCOVERY WORKSHOP
Duration

3 hours
Price

220 CHF
Participants

8
Languages

French / English
Available countries

Switzerland
Level

Connoisseur
Location

Manufacture Jaeger-LeCoultre
Address

Rue de la Golisse 8, 1247 Le Sentier, Switzerland
Guided by an instructor and a technical expert from our Manufacture, you will discover:
- how the Reverso design was conceived,
- why its case flips over,
- and what made the design so technically challenging.
You will trace its evolution through landmark historic pieces to the current collection.
Our experts will reveal secrets of the patented swivelling mechanism and other innovations that have made the watch so distinctive throughout its 90-year history.
You will become fully immersed in the Reverso universe by going hands-on with various pieces, and by trying your hand at assembling a Reverso case from start to finish.
Maximum participants: 8 people. Please note that a minimum of 3 participants is required to confirm the experience.
Plan to arrive 15 minutes before the time indicated on your reservation.
THE REVERSO DISCOVERY WORKSHOP AT A GLANCE