THE REVERSO STORIES MUNICH
DISCOVER THE TIMELESS STORIES OF REVERSO
THE EXHIBITION
THE REVERSO STORIES
Jaeger-LeCoultre presents an extensive exhibition on the history of the Reverso at CityQuartier Fünf Höfe in Munich from 3 to 15 November. The exhibition explores the creative and cultural universe of this exceptional design through three areas that take visitors through over 90 years of timeless modernity:
REVERSO EXHIBITION
This exhibition presents a selection of carefully curated models from the legendary Reverso collection and takes visitors on a journey into the world of watchmaking. Learn more about the history of the iconic Reverso.
1931 CAFE - A JOURNEY THROUGH TIME
A unique opportunity to fully immerse yourself in the style and ambience of the era in which the Reverso was born. End your visit to our exhibition with a visit to our 1931 Café - a tribute to the Reverso as an Art Deco design icon.
SPACETIME - AN INSTALLATION BY AMERICAN ARTIST MICHAEL MURPHY
At the heart of the exhibition is Spacetime, a new art installation by artist Michael Murphy. Spacetime opens up the fascinating experience for viewers of moving around a three-dimensionally depicted clockwork and observing its changing shape: Depending on the perspective, the work transforms from a complex jumble of shapes into the image of one of the world's most legendary clocks. In his new work, Michael Murphy captures the beauty and precision of timekeeping and watchmaking in a new and uniquely fascinating way.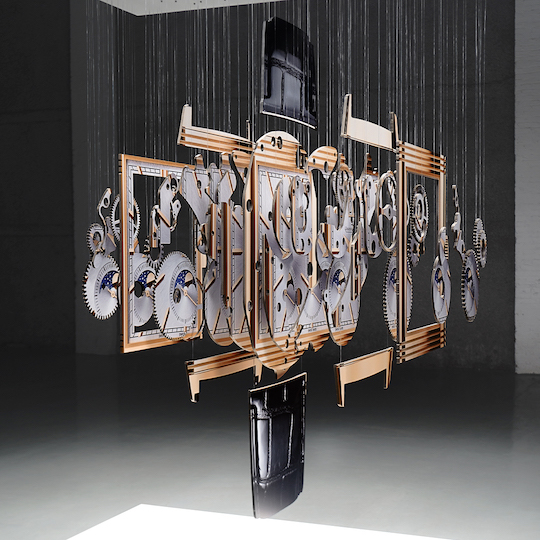 Booking
THE REVERSO STORIES MUNICH
Duration

20 minutes
Price

Free of charge
Participants

12
Languages

German, English
Available countries

Germany
Level

Novice
Location

Fünf Höfe, München
Address

Theatinerstraße 15, 80333 München
You can access the audio guide via your smartphone. For a better experience, we recommend that you bring headphones.
If you have any unanswered questions, our team on site will be happy to help.
After visiting the exhibition, you will receive a voucher for our 1931 Café. Treat yourself with a complimentary drink and a small delicacy.